What Customers Say…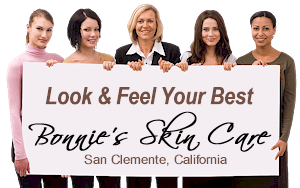 •  "Bonnie's Skin Care is amazing! Barbara is the sweetest and most kind woman. She is very knowledgeable and detailed. I have been getting my eyebrows done with her for little of year now and will never go to anyone else. I recommend her to everyone. She really loves our military and gives us spouses amazing discounts as well. Bonnie's Skin Care is the place to go for all your waxing and skin care needs!"
– Ashley
• " I am extremely pleased with the beauty products that Barbara offers as part of her skin care salon (an extra bonus to her great services!) I am especially impressed with the RE Luma products. I always get lots of compliments on my skin. The serum is well worth the money. I can't live without it!!! I have also discovered that she sells the eye serum and the cleanser. I love the high quality products AND the great customer service that Barbara delivers. 5 stars from me!!"
– Julie Huezo
•  "Barbara Lesneski owner of Bonnie's skin care in San Clemente has the most wonderful salon and state of the art procedures ,all preformed by a Registered Nurse Esthetician, who is highly trained in problematic skin conditions. Her environment is relaxing ,clean and professional .
She is a must see person , especially if you have skin problems!"
– Steven R
•  "Barbara is extremely knowledgeable in recommending just the right products for her clients. With her extensive medical background – she was able to find just the right high-grade solution for my thinning hair. I have been using the serum she suggested and have seen a noticeable difference. As a male client – I can highly recommend her. She will take care of you."
– Hugo Huezo
•  "I am extremely pleased with the beauty products that Barbara offers as part of her skin care salon (an extra bonus to her great services!) I am especially impressed with the RE Luma products. I always get lots of compliments on my skin. The serum is well worth the money. I can't live without it!!! I have also discovered that she sells the eye serum and the cleanser. I love the high quality products AND the great customer service that Barbara delivers. 5 stars from me!!"
– Julie Huezo
•  "Back on track with my back waxing. Barbara is quick and very professional at what she does."
– Jim S.
•  "Nice job on facial and prices good too!"
– Paul P.
•  "Happy with my treatment!"
– Amy L.
•  "She sells many different products in the salon. Stem Cell human is hard to find. I am very happy here!"
– Julie P.
•  "Have always liked this salon!"
– Cindy W.
•  "Happy I found her…"
– Christy S.
•  "She has a professional way attitude and knows what to do."
– Bonnie S.
•  "Very good job."
– Stephen R.
•  Had a nice day at the salon
"This was a great and informative time at Bonnie's Skin Care. This is a
private salon, one to one with Barbara, and learned alot of great information. I
WILL TELL ALL MY FRIENDS AND HER PRICES ARE UNDER OTHER SALONS TOO!
I am a very happy customer."
– Patricia M.
• Excellent Treatment and Registered Nurse
"I had a very good treatment and she referred  me to a Dermatologist in
the area. It has been many years and she did find some areas of concern on my
face and chest. You don't get this treatment anywhere in or out of town. I am
very happy I found her, and will be coming back soon for another check up with
Barbara, after my visit with the Dermatologist."
– Kathy M.