REFRESHING BASIC FACIAL

A customized cleansing and natural exfoliation scrub is used to clear the face, followed by gentle extractions. A massage using aromatherapy and pressure point, is given to relax facial and shoulder muscles. This  facial will revitalize the skin and a specialized booster and moisturizer will leave your skin feeling fresh and rejuvenated. Great for teens, men and women.   –  $85.00 minimal extractions, additional* charge for multiple*
acne facial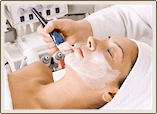 Specialized cleanser and gentle extractions, preformed, followed by high frequency galvanic to remove redness and any bacteria from face post-treatment, followed with decongesting serum, moisturizer and zinc-oxide sunscreen.
$90 1 hour.  If peel, mask or enzymes are used, add $20 more to treatment. Extra time over 1 hour  add $20.
algae salt glow with paraffin wax*
Hands Algae/Salt Glow $20
Micro Hand Treatment $40
*Must book in advance – No walk-ins
CHEMICAL PEEL TREATMENT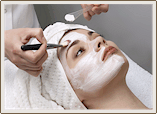 A gentle Enzyme peel, Retinol, Salicylic, or Glycolic peel is given to exfoliate dead skin cells. The results are a smoother texture, stimulation of cellular growth and a youthful glowing appearance of the skin. Ending this fabulous "treatment" is a rich vitamin moisturizer for hydration, protection and restoration of your natural pH balance. To top off your treatment, a sunscreen is applied for your protection. Great for problematic skin and with Microdermabrasion treatments!
$95.00 face only
$125 double layered peel (face only)
$150 3 areas
*Full extractions and Facial post care included
COLLAGEN INDUCTION THERAPY Rejuvapen NXT
​The Collagen Induction Therapy using the Rejuvapen NXT   is an excellent force in Facial Rejuvenation.  This treatment  improves the appearance of periorbital fine lines and deep wrinkles. Treatments take  an hour and require little-to-no recovery time. As a result, the Rejuvapen is a perfect non-invasive lunchtime procedure that delivers exceptional results.
Call for Pricing and Specials!
*Destination Medical Spa
REVITALIZING MASque SPECIAL

A deep cleansing is followed by an exfoliation treatment with extractions, and a customized revitalizing masque to fit your skin type.  This is completed with a serum, toner and conditioner to restore your natural pH and to moisturize your skin.  Great for Rosacea and Acne or dehydrated skin – $90.00
Collagen & Elastin Infusion
Add to any facial (except "peels" facial) $25/Ampuole
Micro-dermabrasion
5 Treatment series $480*
(3 areas/complete facial/extractions)
Add peel series/treatment $30* each
Face only $90
Face, neck and decollate $120
Micro and Peel $140
*Series must be paid in advance
Micro Infusion Combo – Microdermabrasion and Collagen Elastin Infusion and French Collagen Mask $140
peel types
The Perfect Derma™ Peel
Pro Clinical Peel (*home peel kit)
Pumpkin
Retinol
Waxing Services & Prices
| SERVICE | PRICE |
| --- | --- |
| Full Legs | $65-$75* |
| Half Legs* | $45-$55* |
| Bikini | $25-$35* |
| Modified Bikini | $45-$50* |
| Brazilian* | $40-$60* |
| Lip, Chin, Ears, Nose (ea.) | $12-$15* |
| Brow – Maintenance | $15 |
| Brow – New Client(complete reshape) | $20-$25* |
| *Back | $40-$60* |
| *Chest | $40-$60* |
| *1/2 Arm | $20-$30* |
| *Full Arm | $35-$40* |
| Under Arm | $15-$20* |
| Manscape | *Call for pricing |
*Price range depending on hair.
ask us about other available Salon services:
Collagen Pen® treatments (*DMS)
Destinations Medical Spa (Mobile)
Microdermabrasion
Facials – All facials include extractions
Peels – The Perfect Derma™ Peel and Dermodality
Collagen & Elastin Infusion
Professional Sunscreens

Growth Factor Serums by Benev and AQ Growth Factors
Skin For Life Full Phytoceutical Line
Lash Growers – Latisse (*DMS)
Free Consultations with Each Service
Mobile Services (call for services)
Monthly specials on website
* DMS – Destinations Medical Spa
---
AQ Growth Factors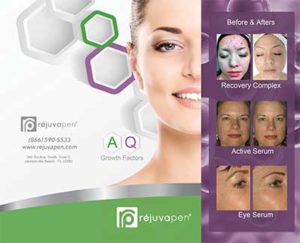 BENEV GROWTH FACTOR TECHNOLOGY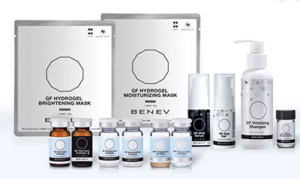 Growth Factor Complex skin serums are based on the latest biotechnological research into the skin healing and anti-aging effects of growth factors. Each serum contains high concentrations of growth factors and other skin nourishing ingredients targeted towards specific skin conditions for fast, visible results.Growth factors are natural proteins abundant in young skin that are important for healthy skin cell function. They are involved in cell turnover and generation, collagen production, and elastin production. These functions help keep skin taut, firm, and smooth. As skin ages of suffers photo-damage from sun exposure, it produces fewer growth factors. Cell turnover slows down and collagen and elastin levels decrease. Areas of the face and neck begin to sag, and fine lines and wrinkles appear, and the overall complexion becomes dull. Stretch marks also may appear on the body as skin becomes less resilient. Growth Factor Complex serums replenish the skin's supply of these crucial proteins to fight visible signs of chronological and sun-induced aging.
​