REFRESHING BASIC FACIAL

A customized cleansing and natural exfoliation scrub is used to clear the face, followed by gentle extractions. A massage using aromatherapy and pressure point, is given to relax facial and shoulder muscles. This  facial will revitalize the skin and a specialized booster and moisturizer will leave your skin feeling fresh and rejuvenated. Great for teens, men and women.   –  $75.00 minimal extractions, additional for multiple
acne facial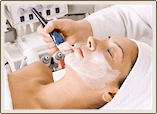 Specialized cleanser and gentle extractions, preformed, followed by high frequency to remove redness and any bacteria from face post-treatment, followed with decongesting serum, moisturizer and zinc-oxide sunscreen.
$90 1 1/2 hour treatment.  If peel, mask or enzymes are used, add $20 more to treatment.
algae salt glow with paraffin wax*
Hands Algae/Salt Glow $15
Micro Hand Treatment $40
*Must book in advance – No walk-ins
CHEMICAL PEEL TREATMENT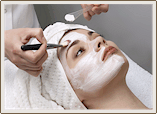 A gentle Enzyme peel, Retinol, Salicylic, or Glycolic peel is given to exfoliate dead skin cells. The results are a smoother texture, stimulation of cellular growth and a youthful glowing appearance of the skin. Ending this fabulous "treatment" is a rich vitamin moisturizer for hydration, protection and restoration of your natural pH balance. To top off your treatment, a sunscreen is applied for your protection. Great for problematic skin and with Microdermabrasion treatments!
$95.00 face only
$125 double layered peel (face only)

REVITALIZING MASque SPECIAL

A deep cleansing is followed by an exfoliation treatment with extractions, and a customized revitalizing masque to fit your skin type.  This is completed with a serum, toner and conditioner to restore your natural pH and to moisturize your skin.  Great for Rosacea and Acne or dehydrated skin – $90.00
Collagen & Elastin Infusion
Add to any facial (except "peels" facial) $25/Ampuole
Micro-dermabrasion
5 Treatment series $480*
(3 areas/complete facial/extractions)
Add peel series/treatment $30*
Face only $85
Face, neck and decollate $120
Micro and Peel $130
(3 areas = one time treatment)
*Series must be paid in advance
peel types
Resurfacing 20% Glycolic/20% Lactic
Pumpkin                                 30%
Retinol                                     10%
Long Island Ice Tea             15%
Jessners
TCA
Dyeing
Lashes                $20
Brows                 $15
Both                    $30
Bleach hair       $15+
Waxing Services & Prices
| SERVICE | PRICE |
| --- | --- |
| Full Legs | $55-$65 |
| Half Legs* | $35-$45 |
| Bikini | $25 |
| Modified Bikini | $35-$40 |
| Brazilian* | $40-$60 |
| Brows Wax | $15 |
| Lip, Chin, Easers, Nose (ea.) | $10-15 |
| Face Wax with Brow | $35-$40 |
| *Back | $40-$60 |
| *Chest | $40-$60 |
| *1/2 Arm | $20-$30 |
| *Full Arm | $35-$40 |
| Under Arm | $15-$20 |
*Price range depending on hair.
ask us about other available Salon services:
Collagen Pen® treatments (*DMS)
Destinations Medical Spa (Mobile)
Microdermabrasion
Facials – All facials include extractions
Peels – H2T and Dermodality
Collagen & Elastin Infusion
Professional Sunscreens

Stem Cell Serum by Invitrix
Skin For Life Full Phytoceutical Line
Lash Growers – Latisse
Free Consultations with Each Service
Mobile Services (call for services)
First Time Customers and Military Always Get 10% Off
Monthly specials on website & chalkboard
Military specials throughout the year on the website
* DMS  – Destinations Medical Spa
BONNIE'S SKIN CARE NOW OFFERS COLLAGEN P.I.N.! *DMS (Destinations medical spa) Laser or another rejuvenation treatment is included.  Reservations only, NO walk-ins please! What is Collagen P.I.N.? (Percutaneous Induction Needling, also referred to as PCIT, Percutaneous Collagen Induction Therapy… a.k.a. micro-needling) Collagen P.I.N. is a method of introducing a controlled wound into the skin triggering … Continue reading Collagen P.I.N.